28th November 2019
On Monday 4th November 2019, before the IFFO Annual Conference began, IFFO RS hosted its third side event to provide a platform to highlight the work of certification standards within the aquaculture supply chain and how they work in collaboration with IFFO RS. The theme of this year's event was how these standards can demonstrate impacts, particularly through improver programmes. The objective was to update attendees and facilitate discussion between the key certification standards on the latest developments including impacts of the standards, progress in improvement projects for reduction fisheries and approaches to measuring improvements in multispecies fisheries as well as recognition of the major players in the aquaculture certification sector.
The event was opened by Francisco Aldon, General Manager of IFFO RS, who outlined what impacts are and why they are vital for standards to measure and demonstrate as well as reiterating the importance of collaboration between standard programmes.
Nicola Clark, Impacts Manager and Deirdre Hoare, Fisheries Science Manager for IFFO RS, then presented the work being done by IFFO RS to start to develop a methodology for measuring impacts that can be attributed to the IFFO RS standard programme. This included an update on the IFFO RS Improver Programme, developments in the multispecies pilot project work in South East Asia, and the Monitoring, Evaluation and Learning System of IFFO RS. The end message being that if all players in the supply chain demonstrate positive impacts, then the this will drive further demand from consumers, sustaining the supply drivers.
Pham Viet Anh, Technical Key Account Manager for Vietnam from Global G.A.P joined the side event for the first time and introduced the Global G.A.P. programme, specifically for Compound Feed Manufacturing, and how this links with other standards in the supply chain.
Daniel Lee, Standards Co-ordinator from Best Aquaculture Practices (BAP) presented on the current demand for marine ingredients into the programme as well the feed mill standard development. He also focused on the importance of collaboration between standards in a pre-competitive nature and how this drives improvements throughout the supply chain. To conclude, he highlighted the need to look at social concerns and impacts as we move forward.
Duncan Leadbitter, FishMatter Director presented on behalf of the Aquaculture Stewardship Council (ASC) and gave an update on the new feed mill standard and how this links with the IFFO RS standard requirements and need for recognised marine ingredients.
Libby Woodhatch, Executive Chair of IFFO RS then concluded the meeting by summarising the need to demonstrate impacts as a collaborative, she said:"Certification is not a silver bullet, but it can help facilitate change and clearly drive improvements in fisheries. For this change to be meaningful for all, especially those who pay for certification, we need to measure the impacts collaboratively to be able to clearly demonstrate a value proposition. However, we must not lose sight of doing this for the 'greater good' and the contribution we can make towards SDGs".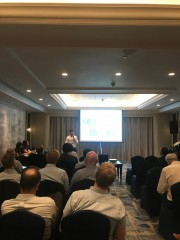 References: Iffo.org